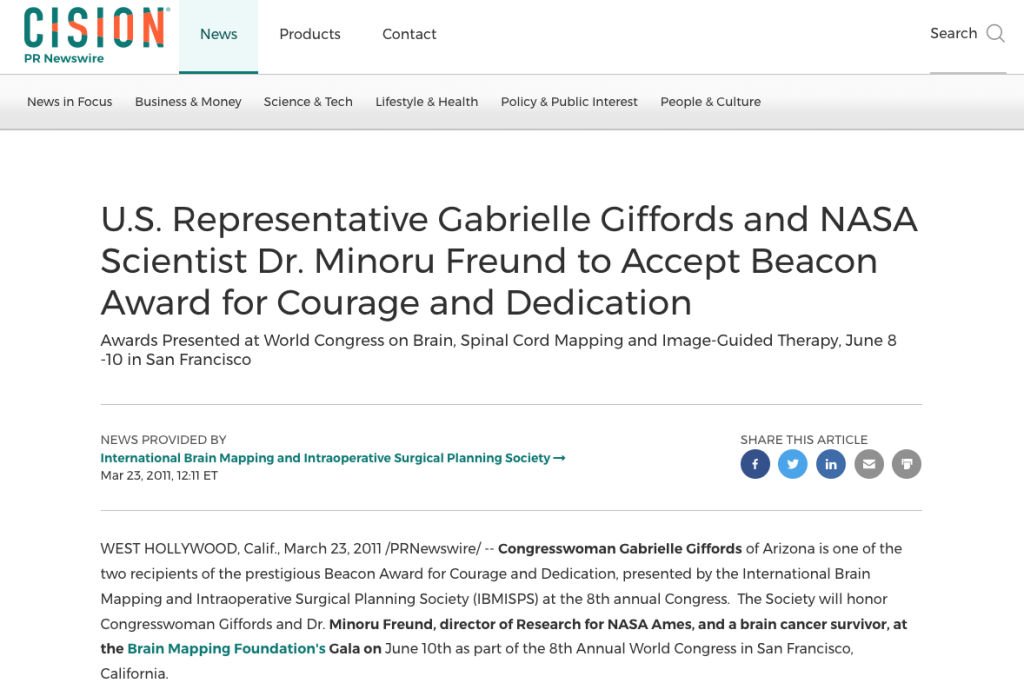 NEWS PROVIDED BYInternational Brain Mapping and Intraoperative Surgical Planning Society
Mar 23, 2011, 12:11 ET
SHARE THIS ARTICLE
---
WEST HOLLYWOOD, Calif., March 23, 2011 /PRNewswire/ — Congresswoman Gabrielle Giffords of Arizona is one of the two recipients of the prestigious Beacon Award for Courage and Dedication, presented by the International Brain Mapping and Intraoperative Surgical Planning Society (IBMISPS) at the 8th annual Congress. The Society will honor Congresswoman Giffords and Dr. Minoru Freund, director of Research for NASA Ames, and a brain cancer survivor, at the Brain Mapping Foundation's Gala on June 10th as part of the 8th Annual World Congress in San Francisco, California.
The theme of this year's Congress, to be held June 8 -10, is Nano-Bio-Electronics, focusing on the integration of nanotechnology, stem cell research, medical imaging and devices. This CME-accredited scientific program features world-class speakers across multiple disciplines, drawing participants from around the globe to discuss brain and spinal cord science and technology.
"We are honored to host this extremely important World Congress that helps merge the basic bioengineering sciences — along with imaging and clinical medicine — in a world-class environment of translational research at UCSF," stated Mitchel Berger, Professor and Chairman of Neurosurgery Department at UCSF.
The Beacon Award is presented annually to individuals demonstrating extraordinary courage and dedication for increasing awareness about neurological diseases, and for patients and their families who have exceeded expectations in fighting neurological disorders with unprecedented courage.
"Dr. Geoffrey Ling, a member of our Society, was one of the neurologists who treated the Congresswoman," says Babak Kateb, Founding Chairman of Board of Directors of IBMISPS, Brain Mapping Foundation and National Center for Nano-Bio-Electronics. "Patients are our best teachers. They help us unlock mysteries of diseases, advance the field and amaze us with their resilience, courage and dedication in fighting neurological disorders and injuries."
Giffords and Freund join past recipients including The Honorable Tammy Duckworth, Assistant Secretary of VA; SGM Colin R. Rich; ABC News Anchor Bob Woodruff; and Oscar Winner Dustin Hoffman.
"On behalf of Congresswoman Giffords, we're honored that she's being recognized with this special award that acknowledges both her strength and will to fight her traumatic brain injury," says Pia Carusone, Chief of Staff for Giffords. "Her extraordinary recovery is a testament to the multidisciplinary work of physicians and scientists who have been dedicating their life toward finding effective treatments for neurological disorders that gives hope to other patients."
The Society also will recognize Dr. Patrick Soon-Shiong with IBMISPS's Pioneer in Medicine Award, and highlight the importance of policymakers through its Pioneer in Healthcare Policy award. The Society's 2011 Humanitarian Award will be presented to Drs. Rocco Armonda and Henry Marsh.
Keynote speakers will include: Secretary of Health and Human Services, Kathleen Sebelius; George Peach Taylor, Jr., Assistant Secretary of Defense for Health Affairs, Department of Defense; Vice Admiral Adam M. Robinson, Jr., Vice Admiral, 36th Surgeon General of the Navy, Chief Navy's Bureau of Medicine and Surgery; Kaigham J. Gabriel, Deputy Director of Defense Advanced Research Project Agency; Dr. Pete Worden, Director of NASA Ames Research Center; and Ramon Lugo III, Director of NASA Glenn Research Center.
For more information, to register, participate or sponsor the 8th Annual World Congress on Brain, Spinal Cord Mapping and Image-Guided Therapy, visit www.worldbrainmapping.org.
To learn more about IBMISPS visit:
SOURCE International Brain Mapping and Intraoperative Surgical Planning Society