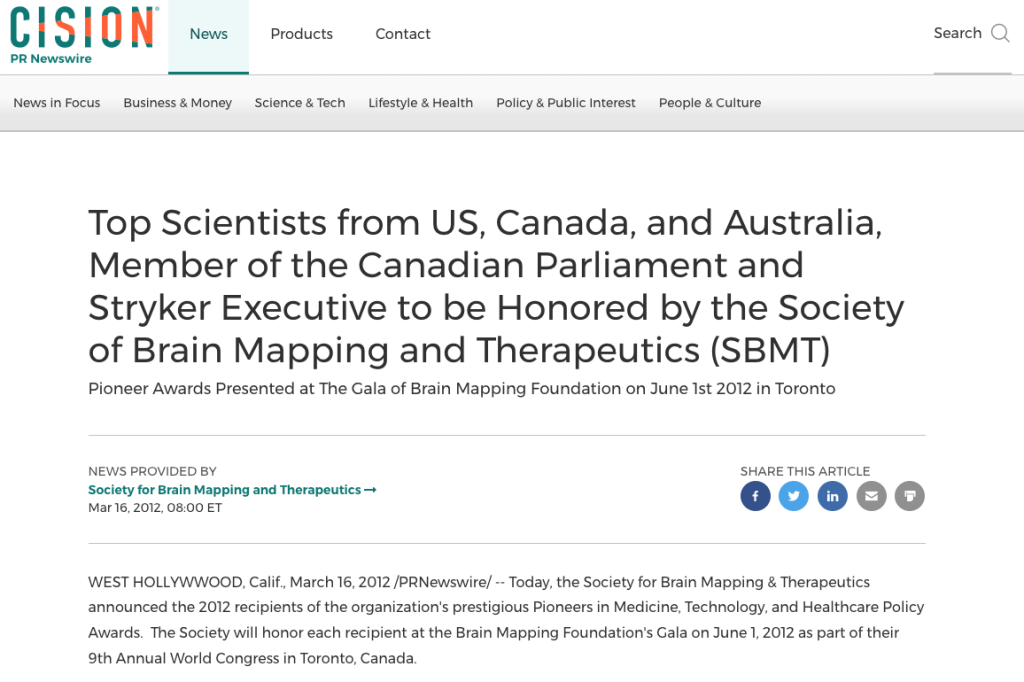 WEST HOLLYWWOOD, Calif., March 16, 2012 /PRNewswire/ — Today, the Society for Brain Mapping & Therapeutics announced the 2012 recipients of the organization's prestigious Pioneers in Medicine, Technology, and Healthcare Policy Awards. The Society will honor each recipient at the Brain Mapping Foundation's Gala on June 1, 2012 as part of their 9th Annual World Congress in Toronto, Canada.
This year, the Society has selected Andres Lozano from the University of Toronto, Antonio Desalles from the University of California, Los Angeles and George Paxinos from the University of New South Wales to each receive a Pioneer in Medicine Award. The trio is on the forefront of Neuromodulation and Stereotactic-Radiosurgery. Their work has contributed to the understanding of the human brain and enabled scientists and surgeons across the globe to better treat neurological disorders such as Parkinson's Disease.
The Pioneer in Medicine Award is presented to individuals who have significantly contributed to scientific advancements in the fields of medicine and image guided therapy through a multi-disciplinary approach. Their groundbreaking contributions have led to the development of state-of- the-art technology.
George Paxinos has pioneered stereotaxic (3D) mapping in animal models, which enabled neuroscientists and neurosurgeons around the globe to learn more about the basic science of the brain and push conventional boundaries in clinical neuroscience. Antonio Desalles has contributed significantly to the frameless stereotactic radiosurgery technology and broken new grounds in the use of Deep Brain Stimulation (DBS) for treatment of Post Traumatic Stress Disorder (PTSD). Andres Lozano is highly regarded as one of the authorities in the field of DBS. He has broken new grounds in treatment of Depression, Obesity and Alzheimer Diseases using DBS.
"These scientists truly have advanced our understanding about the brain in a fundamental ways; their work has significantly contributed to introduction of new therapies for neurological disorders such as Parkinson's Disease, Depression and Post Traumatic Stress Disorders," states Babak Kateb, Founding Chairman of the Board of SBMT and President of Brain Mapping Foundation, and Director of National Center for Nano-Bio-Electronics, Research Scientist, Department of Neurosurgery, Cedars Sinai Medical Center, CA, USA.
The Pioneer in Healthcare Policy Award is presented to lawmakers who have demonstrated visionary policies laws that have contributed to the advancement of science, technology, education, and medicine. The past recipient of this prestigious award include Congresswoman Gabrielle Giffords (2011), Senator Harry Reid (2010), Senator Ted Kennedy and Madam Speaker Pelosi (2009) and Governor Schwarzenegger (2008).
This year Canadian MP, the Honorable Kirsty Duncan, will receive the Pioneer in Healthcare Policy Award for creating legislations, which has impacted research funding and better healthcare delivery in Canada. Her legislative work contributed significantly support for patients with neurological disorders in Canada and global collaboration in this area in order to expedite introduction of new therapies.
"Not only do her sound healthcare policies impact millions of people in Canada, they also provide a model for present and future generations. We are truly honored to recognize one of the best advocates of brain research in Canada," states Mike Chen, President of SBMT and Assistant Professor of Neurosurgery at City of Hope National Comprehensive Cancer Center, CA, USA.
Kevin Lobo, Orthopedics Group President from Stryker Corporation, will be accepting a Pioneer in Technology Development from the Society on behalf of the Stryker Corporation, which has contributed to introduction of new devices, technologies and significantly contributed to therapies of neurological disorders. The Pioneer in Technology Award is presented to trailblazing companies and their CEOs/presidents who have facilitated the development of pioneering technologies through interdisciplinary approaches that have impacted diagnostics, treatment, and healthcare delivery in unprecedented ways.
"The awards committee has been impressed with pioneering work done by Stryker Corporation to address health disparities. We hope Stryker continues its contribution to the field and support game-changing medical research with cutting edge technology that could one day turn into restorative solutions for patient with neurological disorders," said Shouleh Nikzad, member of the board of directors of SBMT and Brain Mapping Foundation, Co-chair of the Award Committee, and Lead, Advanced UV/Vis/NIR Detector Arrays and Imaging Systems, and Nanoscience Group, Strategic Initiative on Gigapixel Focal Plane Arrays, NASA/Jet Propulsion Laboratory, California Institute of Technology, CA, USA.
The theme of this year's Congress is "Nano-Bio-Electronics," focusing on the integration of nanotechnology, stem cell research, medical imaging and novel devices and further emphasizing multidisciplinary approach as an ultimate solution. The Congress features world-class speakers across multiple disciplines, drawing participants from around the globe to discuss brain and spinal cord science and technology.
The 9th Annual World Congress is still accepting abstract proposals for the meeting's workshops, lectures, and presentation sessions. Abstract submission is open now until March 25th 2012.
For more information about 2012 speakers to register, or support of the 9th Annual World Congress of SBMT visit www.worldbrainmapping.org or call (310) 500-6196.
For more information about the past Pioneer Award recipients of the Society for Brain Mapping and Therapeutics visit: https://www.worldbrainmapping.org/awardrecipients/
For more information about the Brain Mapping Foundation visit:
http://www.brainmappingfoundation.org/
SOURCE Society for Brain Mapping and Therapeutics