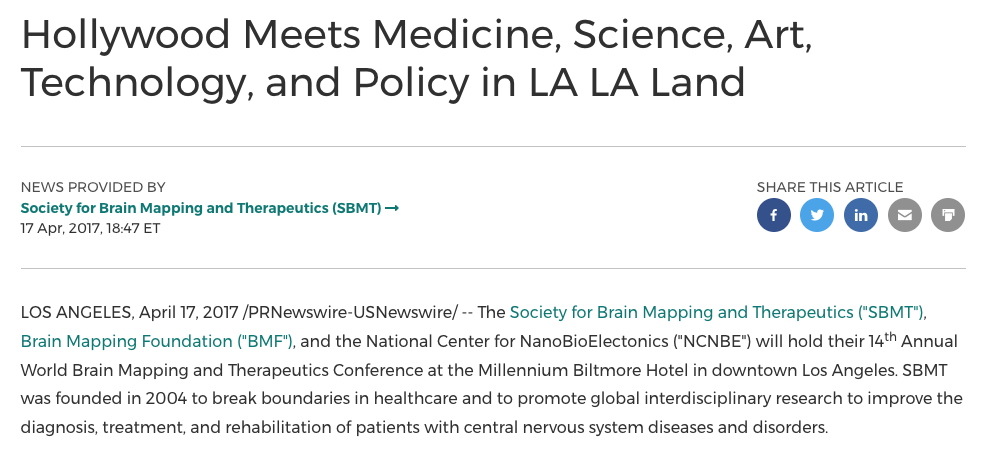 LOS ANGELES, April 17, 2017 /PRNewswire-USNewswire/ — The Society for Brain Mapping and Therapeutics ("SBMT"), Brain Mapping Foundation ("BMF"), and the National Center for NanoBioElectonics ("NCNBE") will hold their 14th Annual World Brain Mapping and Therapeutics Conference at the Millennium Biltmore Hotel in downtown Los Angeles. SBMT was founded in 2004 to break boundaries in healthcare and to promote global interdisciplinary research to improve the diagnosis, treatment, and rehabilitation of patients with central nervous system diseases and disorders.
"This year, there are 320 speakers and 12 keynote speakers who will address state-of-the-art brain science and technology, and pioneering diagnostics therapeutics for Alzheimer's Disease, Parkinson's Disease, brain and spinal trauma, brain cancer, psychiatric disorders, the Autism spectrum, Post-Traumatic Stress Disorder ("PTSD"), as well as all other neurological disorders," said Dr. Wes Ashford, Clinical Professor of Stanford University (affiliated), Director of The War Related Illness & Injury Study Center at the VA Palo Alto HCS and the 14th President of SBMT (2016-17). "This year, several sessions of the conference will focus on translation, integration and development of advanced diagnostics and therapeutics for soldiers, veterans and civilians with neurological disorders."
Annually, the Society and the Brain Mapping Foundation recognize pioneers in the field of brain mapping and therapeutics with distinguished awards. The Brain Mapping Foundation is holding its "Gathering for the Cure" black tie gala on Thursday, April 20th at the Millennium Biltmore Hotel to celebrate pioneering work of some of the world's leading scientists, technologists, policymakers, and science advocates.
"We had a very competitive pool of applicants this year who are truly remarkable individuals as people and pioneers in their respective fields for which they were selected," said Dr. Vicky Yamamoto, USC-Keck School of Medicine Cancer Scientist, Executive Director of SBMT, Member of the Board of Brain Mapping Foundation and Co-chair of the Award Committee. "We are truly delighted to recognize the contributions of these colleagues to the field of clinical neuroscience."
The 2017 award recipients are as follows: Professors George Ojemann (Pioneer in epilepsy neurosurgery) and John Adler (inventor of Cyberknife) the recipients of the Pioneer in Medicine award; Congressman Jerry McNerney the recipient of Pioneer in Healthcare Policy Award, Professor Afsaneh Rabiei is recipient of the Pioneer in Technology Development; Travis Roy recipient of Beacon of Courage and Dedication; Golden Axon award for leadership is given to Drs. Wes Ashford (2016-17 President of SBMT), Michael Roy (2012-13 President of SBMT) and Drs. Nasser Kashou, Ajeet Kaushik, Alexander Stahn are the recipients of Young Investigator award.
Dr. Peter Diamandis, Chairman of XPrize, is the keynote speaker at the Brain Mapping Foundation "Gathering for Cure" gala who will be speaking about global innovation.
"SBMT and its science committee includes over 80 scientists that have built this program over the last 16 months", said the 2018 President Elect of SBMT, Dr. Warren Boling, chairman of the Department of Neurosurgery at Loma Linda University ("LLU"). He added "LLU, City of Hope, and Cedars Sinai Medical Center co-sponsored this world class scientific program for its Continuing Medical education ("CME") accreditation."
This remarkable scientific program is supported by industry leaders including: Fiagon, Fulgent Diagnostics, Space Bio-Laboratories Co., Ltd, Siemens Healthcare, Medtronic, Codman, Stryker, KLS Martin, Ad-Tech, Zeiss, Anatom-e, Nordic Neuro Lab ("NNL"), Synaptive Medical, Integra , PMT Corporation, HarleQuin Recruiting, Med Valley Home Healthcare Inc, Jupiter 9 Production, CariCord, Neurotrope BioScience, California Neurosurgical Institute, Nuvasive, the Law office of Nadia Davari, Planet Street Digital Marketing, Apex Photo Studios, Keri Ann Kimball of Kimball Entertainment, Joe Williamson of Williamson Management, SoVeryVida and Neuronavigation Dinamics.
The scientific program of 2017 SBMT annual meeting has 320 speakers and 12 keynote speakers including Congressman Jerry McNerney, Space Traveler and Engineer Anousheh Ansari, Drs. Gary Small (UCLA), Laligam Sekhar (UW), George Ojemann (UW), Mark Humayun (USC), Wes Ashford (Stanford/VA Palo Alto HCS), Warren Boling (LLU), Kyu Rhee (IBM Watson Health), Dean Yamaguchi (Department of Veterans Affair), and RADM Colin Chinn (Defense Health Agency).
"The Brain Mapping Foundation has been on the forefront of wounded warrior care for 14 years by bringing together world leading scientists" said Ret. Navy Commander Dr. Ken Green. "We have engaged NASA centers, NASA Human Health and Performance, National Labs, Departments of Energy, Commerce, State, Defense, Navy, Army, Air Force, and Defense Health Agency, in our G20 Global Brain Mapping Initiative (Neuroscience-20) aimed at rapidly introducing diagnostics and therapeutics in the field."
Many Hollywood celebrities including: (event host) Robert Picardo, Tim Kring, Jim Kwik, Matthew Rhodes, Charlie Corwin, James Hong, Kate Linder, Hank Garrett, Mel Novak, Aki Aleong, Navid Negahban, Ken Davitian, Eden Sassoon, Gary Graham, Jimmy Jean-Louis, James Kyson, Dru Mouser, Sophia Milos, Vida Ghaffari, Alison Arngrim, Jarrod Bunch, Max Amini, NFL player Alec Ogletree, Andrew Jang, Tony Denison, Rachel Sterling of Pussycat Dolls, Shanica Knowles, Sean Kanan, Apick Youssefian, Mary Apick, fashion designer Sue Wong, and entrepreneur and publisher Miguel R. Forbes will be in attendance at the "Gathering for Cure" gala.
For more information about the "Gathering for Cure" gala registration and donation to the foundation please visit: www.BrainMappingFoundation.Org and for more information about the Society and convention registration for the 14th Annual World Brain Mapping Conference and Gala please visit: www.WorldBrainMapping.Org
Contact:
Dr. Harry Kloor; Charry@J9Pro.Com 818-679-4009
Media Contact:
Joseph Kelbie Williamson 818-605-8886 williamsonmgmt@gmail.com
SOURCE Society for Brain Mapping and Therapeutics (SBMT)
Related Links