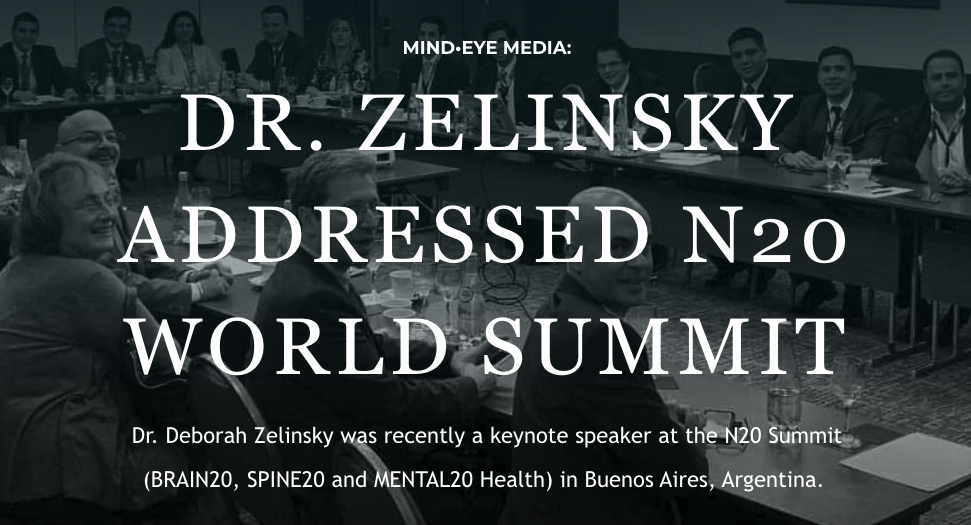 How the Mind•Eye Connection Affects Mental Health
Internationally noted for her work on the retina and its impact on brain function, physiology, and mental health, Dr. Zelinsky is the first optometrist ever invited to address the prestigious N20 World Brain Mapping & Therapeutic Neuroscience Summit (BRAIN20, SPINE20 and MENTAL20 Health).
Dr. Zelinsky recently was a keynote speaker at the N20 Conference (BRAIN20, SPINE20 and MENTAL20 Health) in Buenos Aires, Argentina. There, she spoke to leading neuroscientists and neurosurgeons from around the world about how eye care must evolve from the 20th-century model in order to help more people. The N20 Summit passed Dr. Zelinsky's policy recommendations along to the G20 Summit of world leaders on November 30, 2018, where they were accepted and will eventually be implemented.
The N20 Summit (BRAIN20, SPINE20 and MENTAL20 Health) was launched in 2014 as a project of the Society for Brain Mapping and Therapeutics. The S.B.M.T. is aligned with the National Institutes of Health's BRAIN Initiative – to revolutionize understanding of the human brain and accelerate the development of new technologies that will more effectively treat neurological disorders. Learn more about the NIH here.
Typical Eye Testing May Not Thoroughly Assess Sensory Overload
01
Make The Connection
The traditional practice of using eyeglasses simply to give a patient clearer, 20/20 eyesight is outdated. Current scientific knowledge presents the opportunity for prescription eyeglasses to be selectively designed to alter sensory integration, including auditory function and body biochemistry, and affect learning disabilities, autism, symptoms of concussion and many other neurological impairments.
02
Changing Perspectives
Mental health disorders have reached a crisis level in the world, including the United States, and are as much related to retinal sensitivities in peripheral eyesight and lack of integration between visual and auditory signals, as they are to abnormal brain activity and neurochemical imbalances. Just as changes in environmental stimuli can impact brain function and biochemistry, so, too, eyeglasses can modify environmental input to the retina and mitigate neurological issues.
03
Skillness vs Illness
Policy changes regarding screening for proper connections between eyes and ears could allow health professionals to intervene in this public health care crisis by preventing or at least reducing various mental health issues, thereby enhancing the quality of citizens' lives (young and old), promoting better productivity of citizens, and potentially reducing health care costs by millions of dollars worldwide.
"The retina serves as a two-way portal into the mind and body," says Dr. Zelinsky, a fellow in both the College of Optometrists in Vision Development and the Neuro-Optometric Rehabilitation Association, a member of the Society for Brain Mapping and a community leader for the Society of Neuroscience. "The way light enters the retina impacts brain function, affects various nervous systems and alters body biochemistry. We have the knowledge to affect the mind and body in positive ways.
"As eye care professionals, we can have a positive impact on cognitive impairments using prescriptive eyeglasses that modify the retina's perception of light," she says.
Dr. Zelinsky developed the Z-Bell Test℠, a simple but revolutionary method of checking a patient's overall awareness of space and his or her integration of visual processing with listening. The test has changed the lives of both pediatric and adult patients.
"With the Z-Bell Test℠, we can determine whether the environment is in sync or just plain confusing for a patient," she explains. "Using the proper mix of filters, lenses and/or prisms, we can readjust a patient's visual balance and eye-ear integration by altering the way in which light disperses across the retina. Changes in luminance on the eye affect how the brain interprets and reacts to information about the environment and can impact a person's spatial awareness, body movement and selective attention to sound."
Dr. Zelinsky's groundbreaking work in assessing brain function, with an emphasis on the linkage between eyes and ears, is described in the recently published book The Ghost in My Brain: How a Concussion Stole My Life and How the New Science of Brain Plasticity Helped Me Get It Back. The book was written by one of her former, recovered patients, Clark Elliott, PhD.