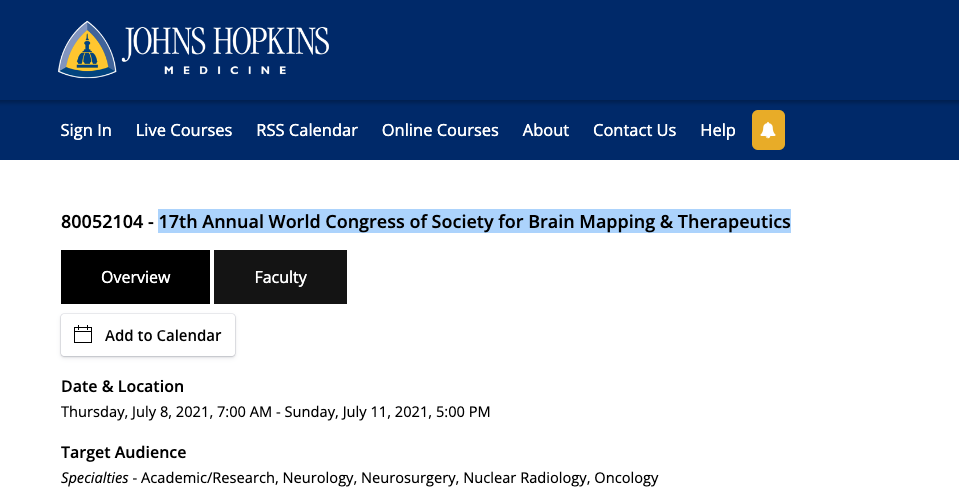 Date & LocationThursday, July 8, 2021, 7:00 AM – Sunday, July 11, 2021, 5:00 PM
Target Audience
Specialties – Academic/Research, Neurology, Neurosurgery, Nuclear Radiology, Oncology
OverviewThe 17th Annual World Congress of SBMT will bring together physicians, scientists, policy makers, funding agencies, and industry to further the advances and applications in brain and spinal cord mapping and image-guided therapies (operative and non-operative). This conference will create a critical mass by introducing synergy among inter-disciplinary researchers and clinicians to further analyze brain function and the nervous system.
For additional information: https://www.worldbrainmapping.org/Annual-Congress
Objectives
Share the latest state-of-the-science across the biological and physical science impact on the day-to-day practice.
Employ emerging technologies and innovations to improve patient outcomes.
Address barriers and controversies in the field of brain mapping and create consensus about how to overcome them.
Formulate policy recommendations to the US Congress based on the most advanced diagnostics and therapeutics.
AccreditationACCREDITATION STATEMENT
The Johns Hopkins University School of Medicine is accredited by the Accreditation Council for Continuing Medical Education (ACCME) to provide continuing medical education for physicians.
CREDIT DESIGNATION STATEMENT
The Johns Hopkins University School of Medicine designates this live activity for a maximum of 10.75 AMA PRA Category 1 Credits™ . Physicians should claim only the credit commensurate with the extent of their participation in the activity.
Richard D. Abbey, PhD
Clinic Director
Abbey Neuropsychology Clinic
Orange Alem, PhD
Founder/Scientist
FieldLine Inc.
Gabriel Altman, DC
Co-owner
Kinetix365
Michael Beyeler, PhD
Assistant Professor
University of California, Santa Barbara
Delia Cabrera DeBuc, PhD
University of Miami
Gert Cauwenberghs, PhD
Professor
UC San Diego
Osman Cerezci, PhD
Prof
Uskudar University
Istanbul, Turkey
Iype Cherian, MD
Director, Counselor General Member, Associate Chief Editor, Reviewer
Cleveland Clinic
Yu Mike Chi, PhD
Cognionics, Inc.
Gregory Clark, PhD
Assoc. Prof.
Univ. of Utah
Justin Dye, MD
Assistant Professor
Loma Linda University
Turker Tekin Erguzel, PhD
Uskudar University
Istanbul, Turkey
Zhaoyang Fan, PhD
Associate Professor
University of Southern California
Michael G Fehlings, MD, PhD
Professor of Neurosurgery/Vice Chair Research
University of Toronto ,
Toronto, Canada
DeAnn Fitzgerald, OD
OD
Dr. Fitzgerald & Associates
Michael Flomenhaft, J.D.
Flomenhaft Law Firm Brain Justice
Dale Foster, PhD
President
NeuroSource LLC
Jenny Garbus, COT, CBIS
Neuro Vision Rehabilitation Institute
Hugo Geerts, PhD
Certara
Robert Hariri, MD, PhD
Chairman Founder
Celularity
Heather Heitkotter
Graduate Student
Medical College of Wisconsin
Ryan M. Hill, PhD
University of Nottingham
Nottingham, United Kingdom
Elliot Hogg, MD
Assistant Professor
Cedars-Sinai Medical Center
Keyne Johnson, MD
Owner/CEO
Brain and Spine Institute for Children
Babak Kateb, MD
Chairman and CEO
Society for Brain Mapping and Therapeutics (SBMT)
Spencer Kellis, PhD
California Institute of Technology
James Kozloski, PhD
Research Staff Member
IBM Research
Christopher Lee, PhD
University of California San Diego
Vivien Lee, MD
Neurologist
Ohio State University Medical Center
Kai-Uwe Lewandrowski, MD
Surgeon
Center For Advanced Spine Care of Southern Arizona
Mark Liker, MD
Assistant Professor
University of Southern California
Joel Lubar, PhD
PRESIDENT
SOUTH EASTERN NEUROFEEDBACK INST
Codrin Lungu, MD
NINDS, NIH
Nancy J Major, MA
Vision Therapist
Central Coast Vision and Learning
Shannon Mandel, PA-C
Mind Eye Institute
Zoltan Mari, MD
Associate Professor
Johns Hopkins University
Eric Marvin, DO
Virginia Tech Carilion Clinic
Brian Mehling, MD
Orthopedic Surgeon CMO, Blue Horizon International
Blue Horizon International
Roger Miller, PhD
Program Director
National Institutes of Health
Hiroyuki Mino, PhD
Professor
Kanto Gakuin University
Yokohama, Japan
Virendra Mishra, PhD
Associate Staff
Cleveland Clinic Lou Ruvo Center for Brain Health
Martin M Mortazavi, MD, Neurosurgeon
Chairman
California Institute of Neuroscience
Rebeca Perez-Alfayate, MD, PhD, Neurosurgeon
Neurosurgeon
Hospital Clinico San Carlos
Madrid , Spain
Amy Pruszenski, OD
Dr.
Visual Victory Training, PLLC
Afsaneh Rabiei, PhD
Professor Mechanical and Aerospace Engineering
North Carolina State University
Albert Recio, MD
Physician
Kennedy Krieger Institute/ JHH
Liana Rosenthal, MD
Assistant Professor
Johns Hopkins School of Medicine
Fabien Scalzo, PhD
Associate Professor
Pepperdine & UCLA
Selim Seker, PhD
Uskudar University
istanbul, Turkey
Vishal Shah, PhD
CEO and Founder
QuSpin, Inc.
Lingyan Shi, PhD
Assistant Professor
University of San Diego
Tony Spahr, PhD
Sr. Dir. Research & Technology
Advanced Bionics
Viktor Szeder, MD, PhD
Associate Clinical Professor of Radiology and Neurosurgery
UCLA
Ambooj Tiwari, MD
Clinical Assistant Professor
NYU School of Medicine
Derek Tong, OD
Clinic Director
Center for Vision Development Optometry Inc.
Gabor Toth, MD
Associate Professor
Cleveland Clinic
Christopher Tyler, PhD
Senior Scientist
Smith-Kettlewell Eye Research Institute
Suraj Upadhyaya, PhD
Midwestern University
Ryan R Walsh, MD, PhD, FAAN
Associate Professor
Muhammad Ali Parkinson Center at Barrow Neurological Institute
Yiwen Wang, PhD
Assistant Professor
Hong Kong University of Science and Technology
Kowloon, Hong Kong
Danny JJ Wang, PhD
Professor of Neurology and Radiology; Director of Imaging Technology Innovation
University of Southern California
Eric J Wang, MD
Assistant Professor
Johns Hopkins Medicine
Robert Watkins IV, MD
Co-Director
Marina Spine Center
Yuxiao Yang, PhD
Postdoc
University of Southern California
Anthony T Yeung, MD, Clinical Professor of Neurosurgery
Execute Director
International Intradiscal Therpy Society
Gene J Yu, PhD
University of Southern California
Theodoros Zanos, PhD
Assistant Professor
Feinstein Institutes for Medical Research
Hekmat Zarzour, MD, Assistant Professor
Assistant Professor
Jefferson University
Yongxin Zhao, PhD
Assistant Professor
Carnegie Mellon University