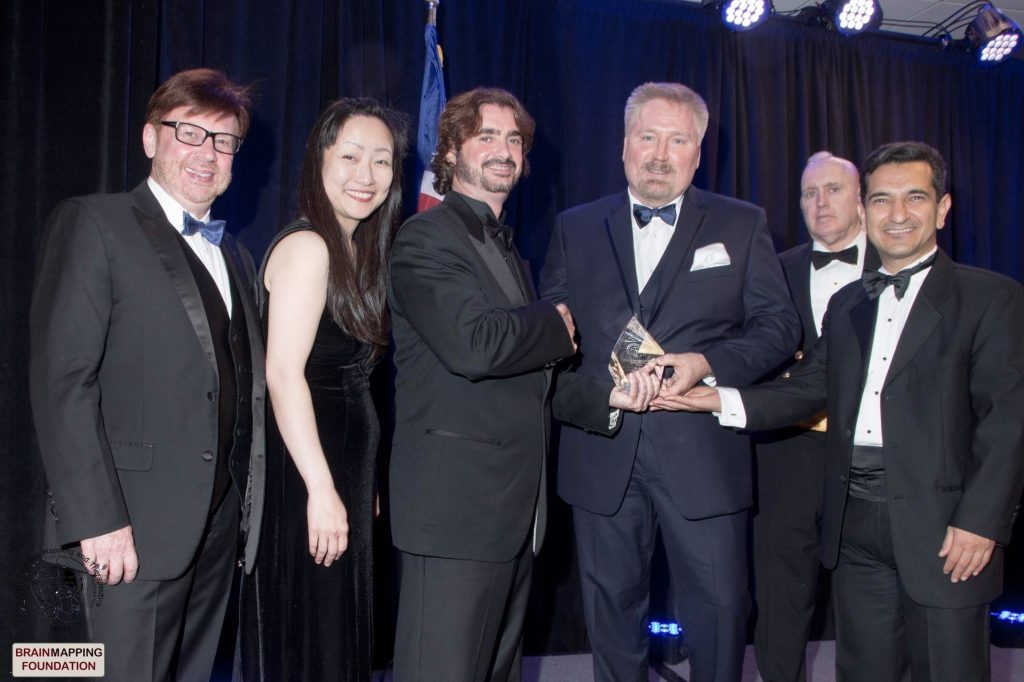 REDWOOD CITY, Calif. and MIAMI, April 18, 2016 /PRNewswire/ — X2 Biosystems, the leader in wearable impact monitoring devices and neurocognitive assessment tools, today announced that the company is the recipient of the The Society for Brain Mapping and Therapeutics (SBMT) 2016 Pioneer in Healthcare Technology Innovations Award for developing its next-generation head impact measurement sensor technology. The award was presented at a Saturday night gala at the 13th Annual SBMT World Congress in Miami, which featured Dr. Janet Kavandi Ph.D., astronaut and Director of the NASA Glenn Research Center, as keynote speaker.
"We are deeply honored by this recognition from SBMT, an organization that brings together leading brain researchers across multiple disciplines from around the world," said John Ralston, Ph.D. X2 Biosystems CEO. "This award highlights the significance of our technology and our collaborative efforts to reduce the risks, incidence and costs of head impact injuries."
"The SBMT Award Committee is truly pleased to select this year's remarkable award recipients. We are honored to recognize their transformative discoveries and achievements in medical science, technology, and policy making," said Vicky Yamamoto, Ph.D., a cancer scientist at Keck School of Medicine at USC, Chair of the Awards Committee, and Co-Chair of the Science Committee for SBMT. "X2 Biosystems' solution stood out to the committee because of its truly innovative approach to head impact sensor technology. Along with previous award winners that include Siemens and Intel, X2 joins a very short list of technology innovators who have truly earned this world-class prestigious recognition from SBMT."
"SBMT is in the process of promoting global cross-disciplinary partnerships involving science, government and industry through its G20 World Brain Mapping and Therapeutics Initiative. This opportunity to honor X2 Biosystems is an exemplary validation of what SBMT hopes to accomplish through this global partnership with leaders of industry, academia, nonprofits and policymakers," said Aaron Filler, M.D., Ph.D., J.D., President of SBMT and co-inventor of diffusion tensor imaging.
X2 Biosystems was also given the honor of presenting on behalf of SBMT the 2016 Pioneer in Medicine Award to Dr. Bennet Omalu, who discovered the correlation between Chronic Traumatic Encephalopathy and the repetitive head trauma that is common to both athletes and soldiers.
Although much recent focus has been directed specifically at the issue of concussion injuries, a growing volume of evidence is revealing that significant brain injuries may result even in the absence of clinically diagnosed concussion symptoms.
X2's "X-Patch" wearable impact sensors have become the world's most widely deployed and tested head impact monitoring device, used in a continually expanding range of athletic activities from football (youth, high school, collegiate, pro) to hockey, soccer, lacrosse, rugby, Australian Rules Football, baseball, field hockey, wrestling, boxing, Taekwondo, mixed martial arts, skiing and BMX cycling.
The X-Patch is also being actively evaluated for use in military training applications. Several landmark studies published by leading concussion researchers have demonstrated that safer training and playing techniques that incorporated the X-Patch achieved 30% to 70% reductions in the incidence of head impacts that can lead to concussion injuries.1-4
At the SBMT Annual Congress, X2 also presented initial results demonstrating that localized damage patterns observed in the brains of college athletes using high-resolution in vivo Diffusion Spectrum MRI (DSI), even in the absence of any diagnosed concussion symptoms, correlate with the impact loading recorded using X-Patch sensors. Multiple researchers are beginning to explore this application of the X2 sensors to help develop remove-from-play thresholds for both single head impacts and multiple head impacts accumulated over extended periods of time.
"The brain is one of the final frontiers of medicine, with many mysteries still to be unlocked, and with X2 and its sensors, I believe that researchers now have a powerful set of tools to aid them in their quest to unravel the secrets of the brain, and medics have a tool to prevent brain trauma from accumulating," said Dr. Harry Kloor, Ph.D. (physics), Ph.D. (chemistry), member of the SBMT Award and Science Committees. Click here to read the complete story about all of the awards presented at the 13th Annual SBMT Congress.
X2 Biosystems CEO Dr. John Ralston will be speaking at the Congressional Briefing on Wednesday, April 20th at the 5th Annual Brain Mapping Day. The event will be held at the Rayburn House office building and was made possible by the Brain Mapping Foundation, Society for Brain Mapping and Therapeutics, National Center for NaoBioElectronics, SAP and X2 Biosystems.
1 UNH Helmetless Tackling Study
2 Ole Miss Biosensing Study
3 Journal of Neurosurgery Study
4 USA Football Heads Up Coaching Study
———–
About X2 Biosystems (http://www.x2bio.com) X2 Biosystems merges wearable impact monitoring devices, neurocognitive assessment tools, wireless communications, and cloud data analytics to deliver the complete continuum of care in concussion management that athletic, medical, military, and industrial markets are now demanding in order to reduce the incidence, risks, and costs of head impacts and concussion injuries. X2 has offices in Redwood City, CA, and Seattle, WA.
Media Contact:
http://www.x2biosystems.com
Contact: Michael Rosenberg
VP Marketing, X2 Biosystems
(831) 818-2758
michaelr@x2bio.com
About The Society for Brain Mapping and Therapeutics (SBMT) (https://www.worldbrainmapping.org/about-sbmt) The Society for Brain Mapping and Therapeutics (SBMT) is a non-profit society organized for the purpose of encouraging basic and clinical scientists who are interested in areas of Brain Mapping, engineering, stem cell, nanotechnology, imaging and medical device to improve the diagnosis, treatment and rehabilitation of patients afflicted with neurological disorders. The society promotes the public welfare and improves patient care through the translation of new technologies/therapies into life saving diagnostic and therapeutic procedures. The society is committed to excellence in education, and scientific discovery. The society achieves its mission through multi-disciplinary collaborations with government agencies, patient advocacy groups, educational institutes and industry as well as philanthropic organization.
Media Contact:
Dr. Ken Green| Executive Director| Ken.Green@WorldBrainMapping.org
Cell (202) 577-5105
Photo – http://photos.prnewswire.com/prnh/20160417/356240
SOURCE X2 Biosystems
Related Links