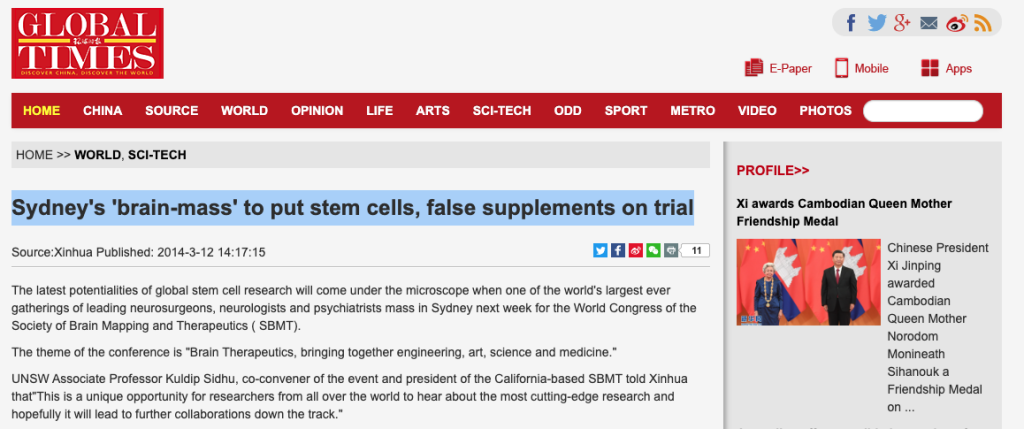 Source:Xinhua Published: 2014-3-12 14:17:15
---
The latest potentialities of global stem cell research will come under the microscope when one of the world's largest ever gatherings of leading neurosurgeons, neurologists and psychiatrists mass in Sydney next week for the World Congress of the Society of Brain Mapping and Therapeutics ( SBMT).
The theme of the conference is "Brain Therapeutics, bringing together engineering, art, science and medicine."
UNSW Associate Professor Kuldip Sidhu, co-convener of the event and president of the California-based SBMT told Xinhua that"This is a unique opportunity for researchers from all over the world to hear about the most cutting-edge research and hopefully it will lead to further collaborations down the track."
According to a University spokesman, Sidhu will be presenting a world-first study "Brain in the Petri dish" with Scientia Professor Perminder Sachdev from UNSW's Centre for Healthy Brain Ageing and Dr Henri Chung which will touch on breakthrough technology concerning patient-derived stem cell technology (iPSC).
With the ultimate potential to assist early onset of Alzheimer' s disease treatment, the discussion will lift the lid on a brain disease process to be modeled in the Petri dish with cells derived from patients.
The arrival of so many leading neuroscientists in Sydney is also certain to be watched nervously by the booming nutrient supplement industry after a major report released last month suggested the booming international market for nutrient supplements — worth 68 billion U.S. dollars according to research from Euromonitor — as woefully lacking scientific confirmation.
The report, commissioned by Alzheimer's Disease International and Compass Group, recommended that"clear, consistent and independent evidence-based advice"on nutritional supplements be made available to those at risk of, or already living with dementia.
The Sydney event will also honor global achievements in neuro- scientific achievements.
Sidhu will be awarded the "Pioneer in Medicine Award" for his contributions to stem cell research and his global consortium approach in iPSC technology.
Dr Charlie Teo, a Conjoint Associate Professor at UNSW, will receive the "Humanitarian Award" for his work including establishing and funding a hospital in India and operating on patients who don't have the money to get appropriate care in the developing world.
Australian Prime Minister Tony Abbott will be given the " Pioneer in Healthcare Policy Award" by the SBMT.
The prime minister is being recognized for his support of brain research through a massive Australian — 200 million U.S. dollars – – dementia initiative.
The U.S. Congressman Chaka Fattah, who will be at the Congress, will receive the same award.
The conference kicks off in Sydney next week.
Posted in: Asia-Pacific, Biology