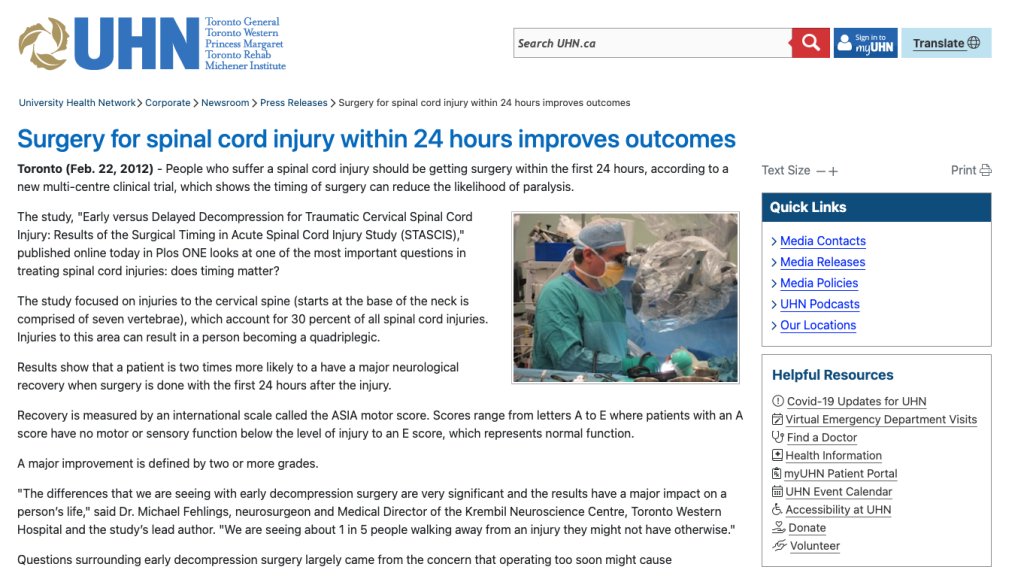 Surgery for spinal cord injury within 24 hours improves outcomes
Toronto (Feb. 22, 2012) – People who suffer a spinal cord injury should be getting surgery within the first 24 hours, according to a new multi-centre clinical trial, which shows the timing of surgery can reduce the likelihood of paralysis.
The study, "Early versus Delayed Decompression for Traumatic Cervical Spinal Cord Injury: Results of the Surgical Timing in Acute Spinal Cord Injury Study (STASCIS)," published online today in Plos ONE looks at one of the most important questions in treating spinal cord injuries: does timing matter?
The study focused on injuries to the cervical spine (starts at the base of the neck is comprised of seven vertebrae), which account for 30 percent of all spinal cord injuries. Injuries to this area can result in a person becoming a quadriplegic.
Results show that a patient is two times more likely to a have a major neurological recovery when surgery is done with the first 24 hours after the injury.
Recovery is measured by an international scale called the ASIA motor score. Scores range from letters A to E where patients with an A score have no motor or sensory function below the level of injury to an E score, which represents normal function.
A major improvement is defined by two or more grades.
"The differences that we are seeing with early decompression surgery are very significant and the results have a major impact on a person's life," said Dr. Michael Fehlings, neurosurgeon and Medical Director of the Krembil Neuroscience Centre, Toronto Western Hospital and the study's lead author. "We are seeing about 1 in 5 people walking away from an injury they might not have otherwise."
Questions surrounding early decompression surgery largely came from the concern that operating too soon might cause complications later on for the patient. But better surgical techniques and improved imaging capabilities over the last 20 years means that early surgery results in fewer complications.
With consensus on early decompression growing among neurosurgeons, this study provides the scientific basis need to make policy changes that incorporates this evidence into a new standard of care for patients.
"Since timing is such an important factor for treating spinal cord injuries we need to ensure that patients can get timely access to neurosurgical care," said Dr. Fehlings. "This could mean the creation of neurosurgical centres of excellence, similar to stroke centres in Ontario."
There are 1,500 – 1,700 new injuries a year in Canada. Over a million people have an SCI in US in Canada and numbers are rising.
According to the Rick Hansen Foundation, spinal cord injuries cost the system three billion dollars annually in Canada.
Dr. Michael Fehlings is also a professor of neurosurgery at the University of Toronto. He holds the Krembil Chair in Neural Repair and Regeneration and is a McLaughlin Scholar in Molecular Medicine.
About Krembil Neuroscience Centre
The Krembil Neuroscience Centre (KNC), located at Toronto Western Hospital, is home to one of the largest combined clinical and research neurological facilities in North America. Since opening in 2001, KNC has been recognized as a world leader through its research achievements, education and exemplary patient care. The centre focuses on the advancement, detection and treatment of neurological diseases and specializes in movement disorders, dementias, stroke, spinal cord injury, blinding eye diseases, epilepsy and cancer-related conditions. For more information please visit www.krembil.com.
About University Health Network
University Health Network consists of Toronto General Hospital, Toronto Western Hospital, Princess Margaret Hospital and Toronto Rehabilitation Institute. The scope of research and complexity of cases at University Health Network has made it a national and international source for discovery, education and patient care. It has the largest hospital-based research program in Canada, with major research in cardiology, transplantation, neurosciences, oncology, surgical innovation, infectious diseases, genomic medicine and rehab. University Health Network is affiliated with the University of Toronto.
Media Contact
Phone: 416 340 4636
Email: UHN.News@uhn.ca