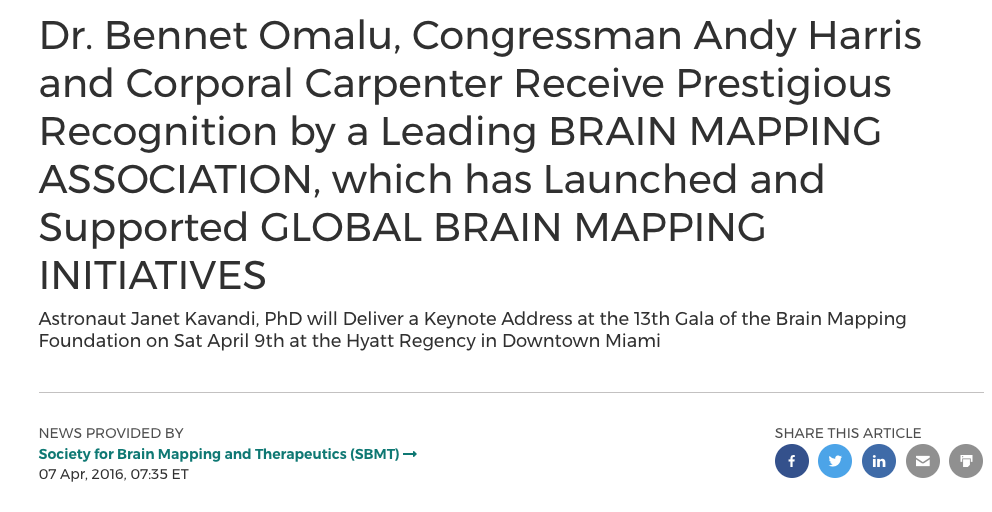 NEWS PROVIDED BYSociety for Brain Mapping and Therapeutics (SBMT) 
07 Apr, 2016, 07:35 ET
---
MIAMI, April 7, 2016 /PRNewswire-USNewswire/ — The Society for Brain Mapping and Therapeutics (SBMT), the leading multi-specialty association for Brain Mapping, is holding its 13th Annual World Congress for Brain Mapping and Therapeutics in Miami, FL 8-10 April 2016 in partnership with Florida International University (FIU), the Brain Mapping Foundation, Children's Hospital Miami, Uskudar University Turkey, the Institute for Nerve Medicine, and the California Neurosurgical Institute. Other strategic partners include National Aeronautics and Space Administration (NASA), the US Army's Office of the Surgeon General, the Defense Advanced Research Project Agency (DARPA), the Department of State, Department of Energy, and the Los Alamos National Laboratory, the Department of Defense (DoD) and industry leaders: X2 BioSystems Inc., Surgical Theater, Medtronic, Stryker, EIZO , Haag-Streit USA, Time Medical, Nordic NeuroLab and Compumatics.
The SBMT has been on the forefront of the global advocacy for BRAIN initiatives. Last year SBMT advocated and formulated African BRAIN Initiative, Middle East, and Malaysian BRAIN Initiatives to join brain initiatives already established in the US, Australia and Turkey, and also started a new SBMT chapter in Israel.
This past year, SBMT leaders joined with Turkish scientists and physicians and held its 2nd Annual G20 Brain Mapping Initiative Summit in Istanbul and Ankara in Turkey jump starting Middle East-Turkey BRAIN Initiative.
SBMT has been the global innovative leader in Brain Mapping, and has provided the model and impetus for the newly introduced International brain mapping course at the American Association of Neurological Surgeons (AANS), and a newly established initiative in brain mapping by the Institute for Electrical and Electronics Engineers (IEEE) organizations. The organization also has a special issue of Neurophotonics and Brain Mapping with SPIE-The International Society for Optical Engineering.
"SBMT has been pushing for more global initiatives and global partnerships in last decade, and I am pleased to see that our advocacy has been fruitful," said Aaron Filler, M.D., Ph.D., J.D. (13th President of SBMT)
At the Annual Congress Gala Awards several individuals will be honored for their work and dedicated support of various brain research programs.
Ted Berger, Ph.D., who is a pioneer in the file of Brain Computer Interfaces will receive one of the 2016 Pioneer in Medicine awards
Bennet Omalu, M.D., M. B. A. who discovered the correlation between Chronic Traumatic Encephalopathy and the repetitive head trauma that is common to NFL football players, will also be a recipient of the 2016 pioneer in Medicine award
Aaron Filler, M.D., Ph.D., J.D., who has been one of the inventors of the Diffusion Tensor Imaging/Tractography, will be the third awardee of the 2016 Pioneer in Medicine award.
Congressman Andy Harris will be the recipient of the Pioneer in Healthcare Policy Award for his significant roles in supporting funding in research and the BRAIN Initiative.
The Pioneer in Technology Development Award will be awarded to Chenzhong Li, PhD. (FIU BME Professor) for the discovery of developing sensors that can detect biomarkers, such as beta-amyloid
John Ralston, Chairman, President and CEO of X2BioSystems Inc., will be a recipient of the Pioneer in Healthcare Technology Innovations, for the development of a biosystem technology that measures impact force to the skull with electronic chips.
Corporal William Kyle Carpenter, USMC (ret), recent and youngest living recipient of the Congressional Medal of Honor, is receiving SBMT's Beacon of Courage and Dedication Award.
The award committee is truly pleased to select these remarkable recipients this year. We are honored to recognize their transformative discovery and achievements in science, medicine, and policy making," said Vicky Yamamoto, Ph.D., a cancer scientist at Keck School of Medicine of USC, Chair of the Awards Committee, and Co-Chair of the Science Committee.
Ken Green, D.M.D. and Vicky Yamamoto, Ph.D. will be the recipients of the Golden Axon Leadership award. "Dr. Yamamoto has been devoting her last 13 years to SBMT's global strategic and programmatic development; her leadership has been essential in advancing science and policy of SBMT," said Babak Kateb, MD, Founding Chairman of the Board of SBMT. "Dr. Ken Green has been truly a great force behind our wounded warrior BRAIN Initiative and has been devoted to the SBMT cause for many years; we are grateful for their visionary leadership" he continued.
Ruogu Fang, Ph.D. is the recipient of the Robin Sidhu Memorial Young Scientist Award. A Young Investigator Award will be selected and announced during the Gala Awards on April, 09/16. The National Space Biomedical Research Institute has also partnered with SBMT for its NSBRI-SBMT Young Investigator Award; the finalist will be announced at the meeting. The SBMT also has partnered with Haag-Streit USA and introduced a new clinical fellowship in skull base. Salman Abbasi Fard, M.D. is the recipient of the 2016 HS-SBMT Fellowship Award.
"The Robin Sidhu Memorial Young Scientist Award is aimed at advancing the translation of information technology and supercomputing into neuroscience and brain discovery," said Kuldip Sidhu Ph.D., member of the board of SBMT and Vice Chairman of the G20 World Brain Mapping Initiative
The Scientific Program includes more than 200 presenters covering brain cancer, psychiatric disorders, neurodegenerative disorders, neurotrauma, neural repair, and regeneration, nanoneuroscience, cellular therapeutics, and immunotherapy, spinal disorders, engineering, brain policy and initiatives and radiation oncology.
"The SBMT science committee invested 16 months in the preparation of this program, which is merely a snapshot of the scientific breadth of activities and achievements by our members," said Dr. Ken Green, Executive Director of SBMT and co-chair of the awards and agenda committees.
The membership, convention registration and gala registration are now open.
Press Contact:
Dr. Ken Green
Executive Director of SBMT
Ken.Green@WorldBrainMapping.Org
Cell: 202-577-5105
About SBMT:
www.WorldBrainMapping.Org
About Brain Mapping Foundation:
www.BrainMappingFoundation.Org
SOURCE Society for Brain Mapping and Therapeutics (SBMT)
Related Links